Our History Of Restaurant
Koulchi Zine which means everything is beautiful, is a restaurant located on the street of Riad Zitoun Lakdim formerly a district where one could appreciate the know-how of the Jewish craftsmen, who lived for the most part in the Jewish quarter El Mellah.
The restaurant Koulchi Zine was designed on these premises, in a house that belonged to a Moroccan Jew named Joshua CORCOS, banker and financial advisor to sultans Moulay Hassan 1, Moulay Abdelaziz and Moulay Hafid, who was also the financial advisor of the family of Glaoui grandpa of the time of the protectorate, and to whom he sold this house.
Today this place invites you to embalm the scent of history, not only through its walls, but also through its refined international and Moroccan cuisine that reflects many influences, Berber, Arab, Spanish and Jewish.
We invite you to this magical setting where one meets with subtlety and without formalism the traditional and the modern, and where marry smoothly architecture and flavour.
Koulchi Zine takes up the challenge of perpetuating these architectural traditions and culinary by a perfect combination which aims to revive your taste buds and your pupils.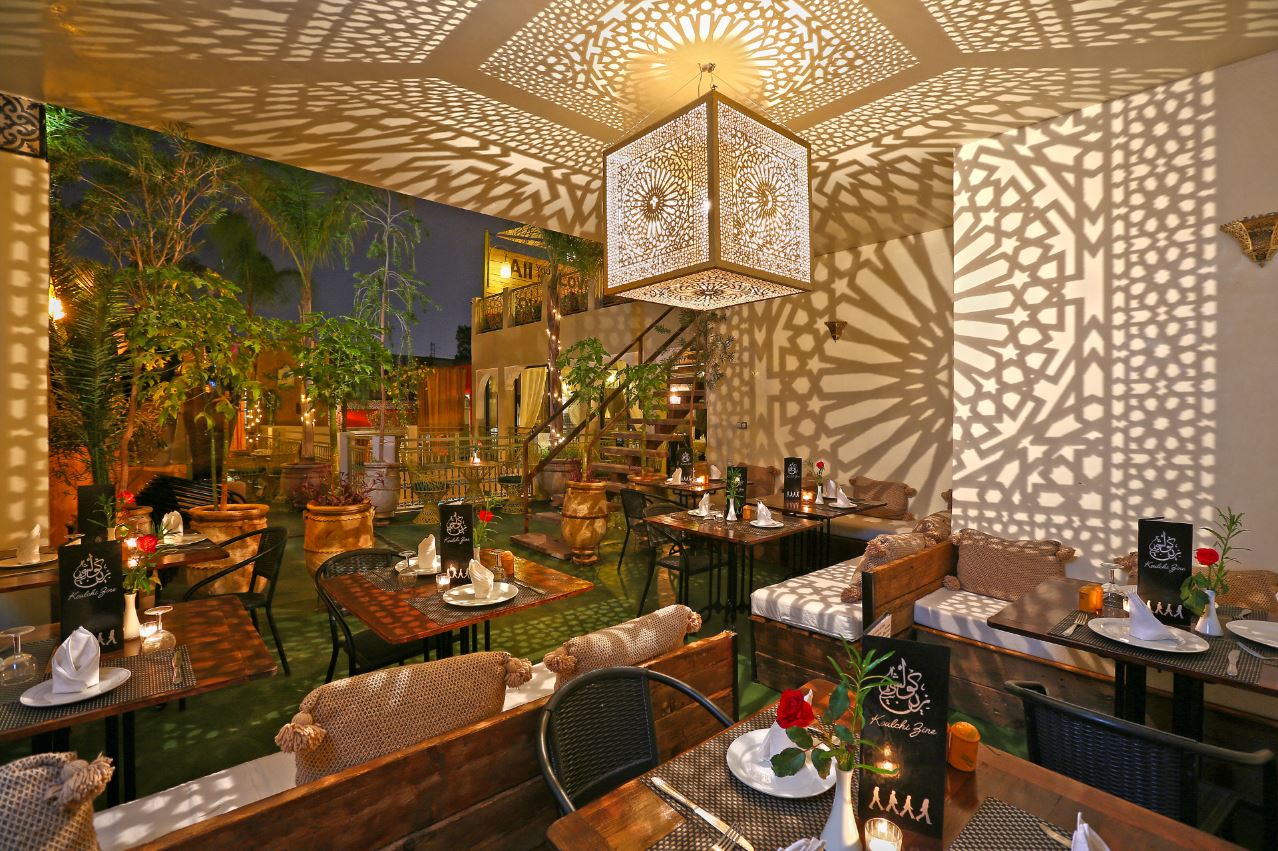 Traditions that our restaurant cherishes and revisits up to date. Koulchi Zine restaurant offers vegan dishes with Moroccan flavours to be enjoyed under the sky of Marrakech city.
A unique place where the beauty of Moroccan traditions blends with the splendour of the history of Marrakech, a restaurant where scenery, tastes and flavours are combined with vegan gastronomy. Koulchi Zine takes up the challenge of perpetuating culinary traditions with a perfect combination that aims to revive your taste
Do not say that the first love is a matter of taste buds.
"My first restaurant in Marrakech and it was more than a great experience!! The waiter Mohi was very welcoming and attentive. I met the owner who also spoke English and was very nice!! The food was amazing I had a pesto pasta and was full with just that!!! I will definitely come back.
"
"
Favourite place in Marrakech!!! Such a hidden gem. Loved everything about it. Nice sized portions, well described menu (English available), AMAZING views and vibes, affordable, a lot of selection on the menu. Would recommend this place 100%!!."
"Koulchi Zine is an absolutely amazing restaurant with fantastic food and scenery. We sat on the rooftop to eat a delicious dinner that was so nice, we came back for our final meal! They have some fantastic vegan options, which I thoroughly enjoyed. My parter got the dish with the lamb shank, and he loved it so much, he said it was the best lamb he had ever had! Thank you Koulchi Zine!"